Yes, you can pass the CA Bar Exam.
Whether you've never taken the CA Bar Exam before or you're approaching your 6th attempt, this course is designed to make this time your last—and is sealed with the BarMD Guarantee. Receive personal attention, so you can remove the obstacles to a passing score.
Develop dependable skills + acquire time-tested tactics in our California Bar Review Course.
REQUEST A DIAGNOSTIC CALL WITH A FACULTY MEMBER
Designed for students who desire materials without one-on-one assistance
5 in-depth lectures covering all skills required for the MBE, PT, and essays
Substantive outlines for all subjects
Model answers for all assigned essays
5 performance test workshops
8 essay workshops, covering all subjects tested on the CA bar essays
Simulated CA Bar Exam materials
Daily schedule to guide your self-directed studying
MBE DNA, our revolutionary MBE program, which includes hardcopy flashcards and 1,500+ practice questions
Our most popular course option
Everything in the Bar Exam Light package
10 line-by-line graded assignments, including a complete, graded, simulated bar exam as one of them
3 one-on-one meetings with your assigned faculty member to address your unique needs
20+ additional essay-breakdown videos
Created for students who seek an even more personalized experience
Everything in the Bar Exam Classic package
10 additional line-by-line graded assignments, for a total of 20
10 sessions of one-on-one tutoring
"With BarMD, I had a much better sense of what bar exam graders wanted and honed my skills for the bar essays – the area that needed the most improvement and confidence. Most importantly, BarMD helped me achieve the skills, knowledge, and mental discipline in a much SMARTER way than any other boxed prep course."
Attend a live online course.
Perfect your CA Bar Exam skills over the internet, learning precisely what you need to know. Every session is recorded, so you can keep up with the course—even if your schedule is busy.
Our complete program uses metacognition, so you know precisely how to pass. Enroll in our California Bar prep, and experience the BarMD Difference firsthand.
Boost your score with in-depth grading.
Receive the meticulous feedback you need, so you understand what you need to fix—and how to boost your score. Our grading of written assignments is so detailed that big-box prep companies simply can't compete.
The Classic + Extreme tiers of our California Bar Review Course include our thorough grading of PTs, essays, and a full simulated CA Bar Exam.
REQUEST A DIAGNOSTIC CALL WITH A FACULTY MEMBER
Learn from our experienced faculty.
Gain unshakeable confidence when you learn from our proven experts. Use their insights, techniques, and wisdom to hone your MBE, PT, and essay skills. We teach you what you need to know, without busy work or fluff.
You can rely on our Bar Specialists (seasoned law school professors and bar tutors) to guide you. At BarMD, our efficient + effective faculty puts you on the fast track to passing.
Licensed Attorney? Take our CA Attorneys' Course for the 1-Day Exam.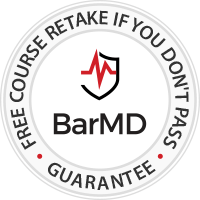 A Holistic CA Bar Review Course Package for Every Examinee
Our alumni range from first-timers to repeaters who took the bar 3, 4, and even 5 times before switching to BarMD—and then, after our bar review, passed on their 1st try.
 Need help selecting a package? Email us or click the chat widget.
Work one-on-one with your Bar Specialist to target your one-of-a-kind needs.
You're unique, and the feedback and guidance you receive should be too. That's why we designed the Classic and Extreme tiers of our bar review to provide a more personalized experience—complete with in-depth grading + tutoring. Cover a range of topics with your dedicated Bar Specialist:
Writing
Analysis
Performance Tests
Structure & Rules
Practical Strategies
Exam-Life Balance
The MBE
…and more
The BarMD Guarantee
We want all of our students to pass. But things happen. That's why we offer the BarMD Guarantee for our CA Bar Review, as well as our Attorneys' Exam Course for licensed attorneys wishing to practice law in California:
If you complete our course and don't pass, you get to take it again for free. That way, next time, you go in even stronger than before.
Your Comprehensive CA Bar Exam Prep Toolbox
Know exactly how to conquer the bar.
Gain the confidence of knowing what you need to improve, why you're not getting the score you want—and how to succeed. When you work with BarMD faculty, the path to passing becomes clear and attainable.
SHOP NOW
Our Bar Review Course Has Been Featured On: