Praise for our Bar Writing:
"During BarMD was when I realized I had no clue what the difference between an equitable servitude and a covenant was, but when I walked into the February exam, I could probably write you a novel about it."
Attend a live course or learn online.
Perfect your bar writing in our Southern California classroom—or over the internet.
Our complete program covers the big picture and the small details—from essay structure to word choice—and everything in between.
Improve with thorough grading.
Receive the meticulous feedback you need to boost your score.
Our essay-grading is so detailed that big-box prep companies simply can't compete. We work with you no matter where you are in the U.S.
Learn under a lawyer's tutelage.
Gain confidence when you work one-on-one with a successful attorney to hone your essay + performance test skills.
At BarMD, our staff puts you on the fast track to passing.
Work with your Exam Specialist to master:
Writing
Analysis
Performance Tests
Structure & Rules
Practical Strategies
Exam-Life Balance
…and more
Sit for the exam with a full toolbox.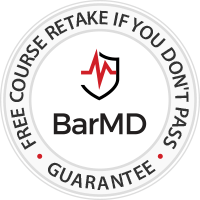 With the right package, you can get the remedy you need.
Email us if you need help selecting a package.
Designed for attorneys who desire materials without one-on-one assistance
5 in-depth lectures covering all skills required for the PT and essays
Substantive outlines for all subjects
Model answers for all assigned essays
5 performance test workshops
6 essay workshops, covering all subjects tested on the CA bar essays
Simulated CA Bar Exam materials
Daily schedule to guide your self-directed studying
Our most popular course option
Everything in the Attorneys' Exam Light package
10 line-by-line graded assignments, including a complete, graded, simulated bar exam as one of them
3 one-on-one meetings with your assigned faculty member to address your unique needs
Weekly office hours available with our Founder, Maureen MacManus
20+ additional essay-breakdown videos
Created for attorneys who seek an even more personalized experience
Everything in the Attorneys' Exam Classic package
10 additional line-by-line graded assignments, for a total of 20
10 hours of one-on-one tutoring with our Founder, Maureen MacManus
Ready for real results?
Learn from experienced faculty who offer seasoned counsel—and really get to know you.
SHOP NOW
Questions? Reach out to our staff anytime: info@bar-md.com or call us at (877) 942-2763.