Work with efficient + effective experts.
Conquer the California Attorneys' Exam.
Work smarter, not harder, with our bar prep course for the 1-day California Attorneys' Exam. With time-tested formulas and polished test-taking tactics, our proven Bar Specialists can guide you to victory—and a passing score.
REQUEST A DIAGNOSTIC CALL WITH A FACULTY MEMBER
Designed for attorneys who desire materials without one-on-one assistance
5 in-depth lectures covering all skills required for the PT and essays
Substantive outlines for all subjects
Model answers for all assigned essays
5 performance test workshops
8 essay workshops, covering all subjects tested on the CA bar essays
Simulated CA Bar Exam materials
Daily schedule to guide your self-directed studying
Our most popular course option
Everything in the Attorneys' Exam Light package
10 line-by-line graded assignments, including a complete, graded, simulated bar exam as one of them
3 one-on-one meetings with your assigned faculty member to address your unique needs
20+ additional essay-breakdown videos
Created for attorneys who seek an even more personalized experience
Everything in the Attorneys' Exam Classic package
10 additional line-by-line graded assignments, for a total of 20
10 hours of one-on-one tutoring with our Founder, Maureen MacManus
"I took the February 2021 California exam for the first time and passed. There is probably a 0% chance that I would have passed without Maureen, and her thoughtful, focused, personalized and very humane approach to studying… I have not had any prior exposure to California law. I was taking California's one-day 'Attorneys Exam' for lawyers who are moving from elsewhere."
Attend a live online course.
Perfect your CA Bar Exam writing over the internet, learning precisely what you need to know to pass.
Our complete program covers the big picture and the small details—from essay structure to word choice—and everything in between.
Improve with thorough grading.
Receive the meticulous feedback you need to boost your score.
Our essay-grading is so detailed that big-box prep companies simply can't compete.
Learn from our experienced faculty.
Gain confidence when you work one-on-one with an insightful, efficient California Bar expert to hone your essay + performance test skills.
At BarMD, our faculty puts you on the fast track to passing.
Use one-on-one time with your California Attorneys' Exam Specialist to hone your skills.
More personalized packages, complete with tutoring + grading, are available (keep scrolling to learn more). Spend this dedicated time with your Bar Specialist to tackle:
Writing
Analysis
Performance Tests
Structure & Rules
Practical Strategies
Exam-Life Balance
…and more
Work with seasoned Cal Bar tutors.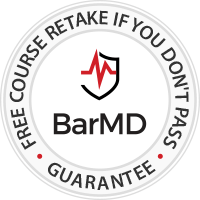 With the right package, you can get the remedy you need.
Email us or send a message via the chat widget if you need help selecting a package.
Please note: This course is designed for attorneys already licensed to practice in another state and are qualified to sit for the CA Attorneys' Exam. If you are not licensed in another state, you must take the CA Bar Review Course.
The BarMD Guarantee
We want all of our students to pass. But things happen. That's why we offer the BarMD Guarantee for our CA Bar Review, as well as our Attorneys' Exam Course for licensed attorneys wishing to practice law in California:
If you complete our course and don't pass, you get to take it again for free. That way, next time, you go in even stronger than before.
Know exactly how to conquer the bar.
Gain the confidence of knowing what you need to improve, why you're not getting the score you want—and how to succeed. When you work with BarMD faculty, the path to passing becomes clear and attainable.

ENROLL NOW
SHOP ALL